X-Photographer Patrick Furter – Fujifilm X-T4 Project
I am a freelance photographer and I love available light. In some instances, commercial work dictates using artificial light but my first love is to make use of natural light.  So, when I had the opportunity to play with the incredible Fujifilm X-T4, on loan to me from Fujifilm SA, I decided to shoot what I like: People – more specifically, my wife.
Turning 40 this year, she wanted to celebrate women of 40-something, who wear so many labels in terms of who they are to everyone: wife, mother, sister, daughter, colleague, boss. But in her heart she still remains an individual, a free spirit.
Going For B&W
I just love black and white photographs, and it is something I like to choose in camera rather than changing a colour image to B&W in post. Having the option of 12 film simulations in the Fujifilm X-T4, I decided on ACROS. It gives me a real film feeling, simulating Fujifilm's ACROS film, which was often praised as the world's finest grain monochrome film. Fujifilm's ACROS simulation is based on the fact that this digital simulation needed to achieve both detail and texture as the original films did. As you can see from the images, the ACROS simulation did not disappoint!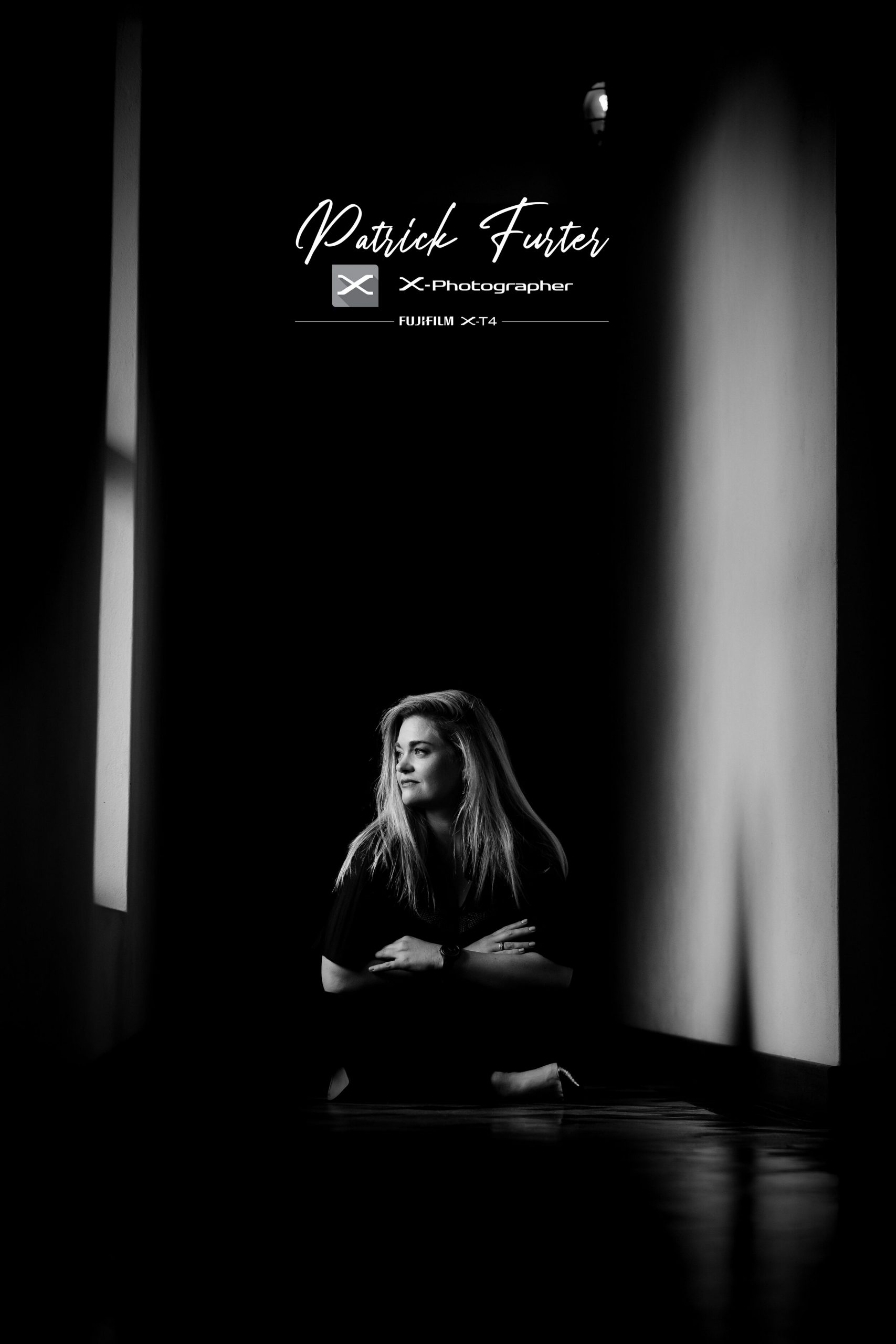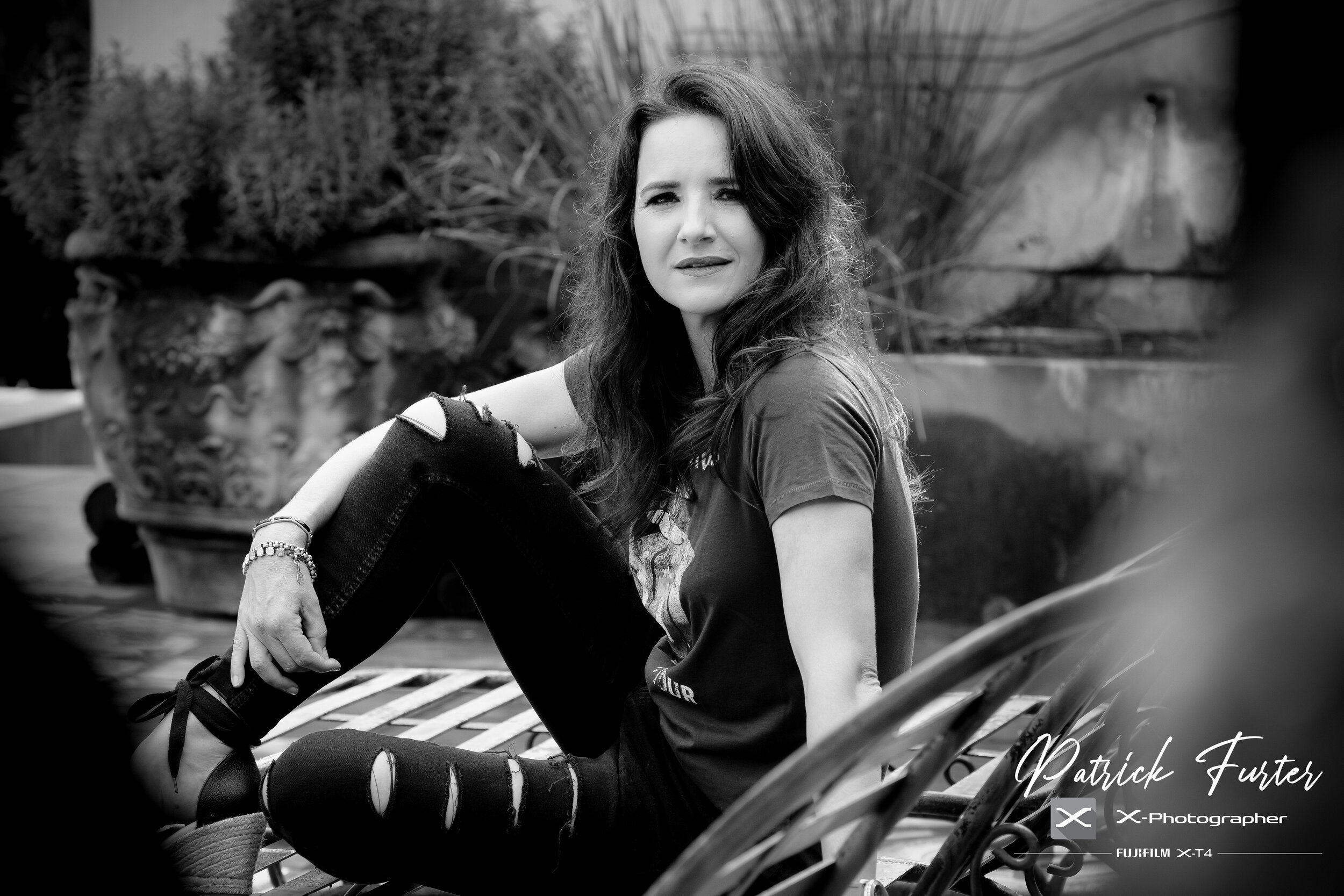 For the photoshoot it was an overcast day and the light was soft. I am not someone who likes to 'over' Photoshop something. I want to capture the original image as close to what I want the final product to be. Composition is crucial; I don't like cropping, changing colour or trying to create an image in post. That, I feel a real photographer should be able to do in camera. I consider the words "Fix it in post" a swear word. We do enhance a bit and maybe level things up in Lightroom, but I endeavour to photograph as if I am still doing so on film.
A lot of my commercial work depend on speed and delivering an image for press or social media as soon as possible to the client. Everything is instant today. With the Fujifilm app I can transfer images instantly to my phone from the camera with the built-in Wi-Fi function. The original quality on the Fujifilm X-T4 is so good out of camera that I can literally send it to clients directly without editing the images on a professional editing suite.
Unless a commercial project demand RAW images, I am a full-on JPEG guy.
To me photography is all about having fun, especially when photographing people, and not worrying about my camera, knowing it will deliver every time is very important to me. Once you have the Fujifilm system, it is so easy to go from one camera body to another, so when I got to play with the Fujifilm X-T4 it was all familiar.
What impressed on the X-T4
Here are a few things that impressed me about the Fujifilm X-T4:
As always, the classic look and feel in hand of the Fujifilm X-range. Unfortunately, I did not receive the battery grip with, which is something I prefer when shooting weddings specifically. But even without it, the X-T4 is a very unassuming camera which delivers incredibly performance.

I only used one battery on the day, changing between my XF50-140mm F2.8 FUJINON lens, the XF56MM F1.2 FUJINON lens and occasionally the XF18mm FUJINON lens. Even with just the one battery, and approximately four hours of shooting, I managed to get more than 700 images in one go, keeping in mind I was shooting JPEG.

The LCD screen's vari-angle movements are much improved since the X-T3's tilting LCD screen.

The initial quality out of camera is simply amazing. Apart from the film simulations that can be selected, subtle tweaks such as highlight and shadows can be made in camera, making it easier to reproduce a scene exactly as you saw it. This significantly cuts post-processing.

As I always like to show clients a bit of a preview and the Electronic View Finder is a winner. I specifically ask clients to view the image in the EVF, as this enhances the viewing experience. Seeing where we are going with the shoot always gives the client a lot of confidence.

The menus are so easy. For a guy like me who is not that technical, it still is easy to navigate.

A final point, that I always bring up, is the value for money with the Fujifilm X-range. Compared to other brands with similar functions and abilities, the Fujifilm X-T4, in my opinion, trumps all.