2022 marks ten years of the Fujifilm X Mount system. To help us celebrate, we're chatting to local Fujifilm users about their photography and showcasing ten of their favourite Fujifilm photos. Quaniet Richards, co-founder of the #shoot4purpose initiative kicks us off. (Photo credit: @deborahrossouw.photo)
Why do you love photography?  
My photographic journey started on 3 January 2021. Armed with my Fujifilm X100s which I initially purchased in 2014 for family vacations and hardly used, I walked the streets of Cape Town capturing humans in motion, the diversity of the city and its vibrant cultures.
Looking through the viewfinder stills my mind, it shuts down all the noise around me and makes the ordinary look extraordinary. It's a form of escapism that gave me a purpose.
My style has gravitated towards black and white street photography. I absolutely love engaging and connecting with people from all walks of life. Listening to their stories, learning and fostering new friendships. Now more than ever we need to care, connect and comfort our fellow humans.
What made you switch to Fujifilm and when did this happen?
I fell in love with the Fujifilm brand and the X100s was surely one of the most beautifully crafted fixed lens cameras for street photography; the go-anywhere, always-by-your-side camera. It provided me with a fresh perspective on the world around me.
After much research and engagement with the local Fujifilm specialist, Hein Hough, I upgraded to the latest Fujifilm X100V.
What do you love most about the camera?
The enhancements to the design, ergonomics and the entire system is incredible. The film simulations are an absolute joy. I have also used the X-Pro3 and X-T4 and X-T100 for street photography.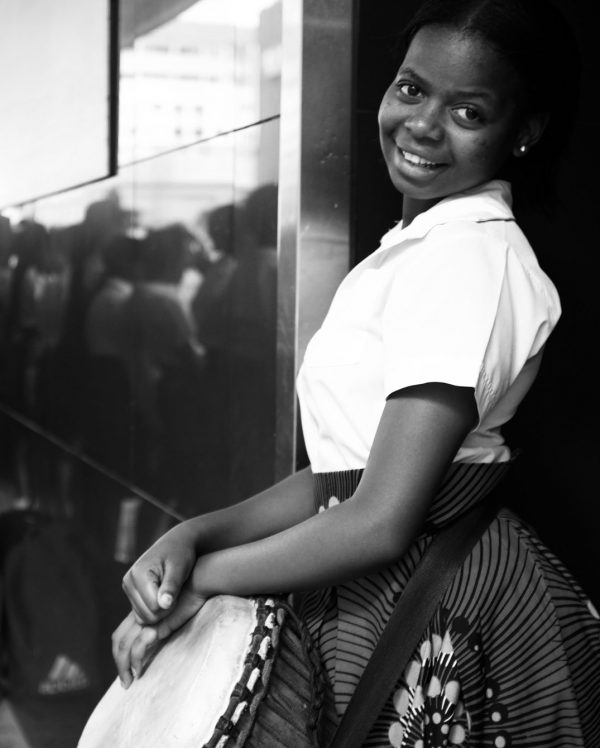 Tell us a bit more about your photography and what you would like to achieve through it.
Together with street artist and photographer Nawawie Mathews, and videographer and director of photography Shamiel Albertyn, we started the #shoot4purpose initiative.
Our aim is to use photography and the Fujifilm X Mount system to empower and facilitate healing in people who have experienced trauma in their lives. We want to assist in rebuilding self-esteem and self confidence. We believe that we can use photography as a tool to document what is happening in our communities and in this way, create awareness of the social challenges we face in our communities and society at large.
In 2021 we hosted two five-week street photography workshops with a total of 10 participants. The participants had absolutely no experience with cameras or photography. It's been an overwhelmingly positive experience. They are extremely passionate, enthusiastic and can't stop talking about photography and the Fujifilm camera gear – a wonderful outcome.
We are extremely grateful to Fujifilm South Africa for sharing our passion to make a difference. Our partnership helps to change people's lives with the Fujifilm X Mount camera system.
The world needs healing, kindness and care. It requires ordinary citizens to do the extraordinary. We truly believe that photography has the power to bring about positive change in society.
Our vision for 2022 is to double the size of our #shoot4purpose cohorts and to run six programmes for the year with 60 participants. We would love if the #shoot4purpose initiative in partnership with Fujifilm and the Fujifilm community is replicated around the world.
Find more of Quaniet's work here:
Instagram accounts
Facebook account