Fujinon Binoculars Review by Etienne Marais
Fujinon is something of a 'new kid on the block' when it comes to binoculars for birding but have made a name for themselves with serious marine binoculars and image stabilized binoculars. In the world of photography, they are also rocking the boat, particularly with their mirrorless camera range.
Binoculars are without a doubt the most critical equipment a birder owns and a key question many birders ask is, how much should you be willing to spend to enjoy good quality birding?
The marketing of binoculars has become somewhat mystical of late. The variation in price of different brands and models is somewhat extreme for what are arguably marginal gains in optical performance. In my opinion there is also a fair degree of smoke and mirrors regarding the importance of some of the features you find in binoculars.
I tested three new models of Fujinon Standard Binoculars and two image-stabilized models. My test is based on useability in the field when looking for, locating and observing birds – with a focus on seeing the features needed to identify them – or watching behaviour. In summary the most important features of a pair of binoculars are the following:
Image clarity (optical performance)
Smoothness and ease of focus wheel
Field of View
Stability and effectiveness of Diopter adjustment
Overall feel, comfort, and weight
Ruggedness and reliability in different weather conditions
Eye-relief (long eye relief essential for those who wear glasses)
Stability and feel of eye caps
Close focus range – especially for all round naturalists – butterflies, dragonflies, etc.
The review is split in three parts.
Fujinon KF 'H' series: KF 8X42H – entry level binoculars
Fujinon KF 'W' series: KF 10X32W and KF 8X32W – higher end roof prisms
Fujinon TS-X 1440 & TS12×28 Techno-Stabi – Image Stabilized binoculars.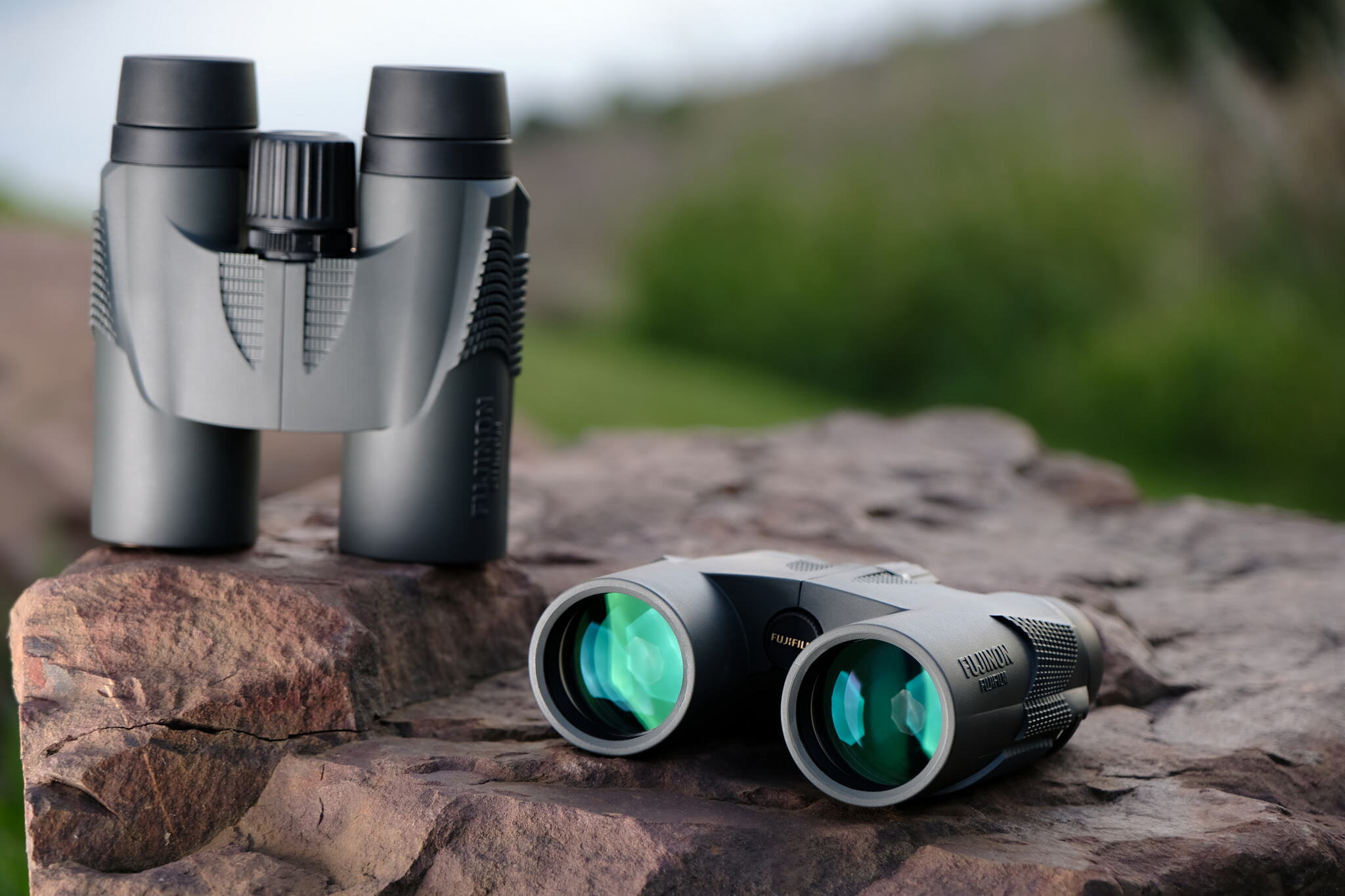 1. Fujinon KF 'H' series KF 8X42H 
Available here.
The KF 8X42H are affordable entry-level birding binoculars. 8X42 is generally regarded as perhaps the best binocular spec for most birders, since the 42mm objective (front) lens with 8X magnification offers the ideal compromise between magnification, light-gathering ability, good field of view and a relatively large exit pupil (4mm).
The Fujinon KF 8x42H is a decent looking, nitrogen filled roof prism offering pretty good optics in this class. The build seems fairly rugged with a high-quality rubber casing. Eye relief is good at 18mm (long enough for people who wear glasses).
I was very impressed with the optics offering a bright image which is very sharp and clear. The image was so good that for a while I thought that I was testing a 10X instrument and not an 8!
This pair also did very well in the low-light comparison I conducted with all the models (see below). The field of view is a good 7.5o. Although high end binoculars these days boast some impressive sounding figures as regards field of view, I am not too sure whether there is such a huge benefit in extending field of view from 7.5 to say 8.5, but more on that later.
These are entry level binoculars, and one does not expect everything to be top-drawer. The eye-caps are somewhat flimsy and I doubt they would stay in a fixed position during a long day in the field. I also found the focus ring to be a little stiff making fast focusing difficult and a little awkward.
The binoculars have a solid feel to them and are a little heavier than the compact W range at 670g. Overall the KF 8X42H are a good pair of binoculars at the price and a viable option for beginner or casual birders (or as a spare pair).
Summary – Fujinon KF 8X42H 
Very impressive optics offering a bright image which is very sharp and clear.

Does very well in low-light comparisons.

The KF 8X42H are a good pair of binoculars at the price and a viable option for beginner or casual birders (or as a spare pair).
2. Fujinon KF 'W' series   KF 10X32W R5 600, available here KF 8X32W
Available here.
My first impression of these binoculars is how small and light they are. The design is handsome and very easy in the hands, plus the binoculars have a rugged feel with textured rubberized casing over the aluminium alloy body. The rubberized casing has a system of well positioned grooves (tread) which is strategically placed for optimal grip. They look like neat, small, highly quality roof prism binoculars.
The binoculars boast phase-corrected BK7 roof prisms with anti-reflection fully multi-coated optics. The durable aluminium-alloy chassis makes the binoculars both tough and light at the same time. As is now standard with most roof prisms, the unit is nitrogen sealed, waterproof and fog proof. Build quality looks good and there are no obvious flaws in terms of ruggedness.
I have to admit to believing that an objective of less than 40mm would not provide sufficient light for quality birding, and that the reduced field of view in binoculars with an objective lens of only 32mm would make these less than ideal. In one sense the advances in light transmission and lens coatings have made a bigger objective somewhat less important, and the smaller objective makes for smaller and lighter binoculars.
It is no coincidence that 8X32 and 8X30 binoculars are now featured by all major manufacturers. There is something, however, in many of the reviews you read which I want to take issue with. Binoculars which are 8X32 are still seen by reviewers as more of an "entry level" spec than the "full size" binoculars such as 10X42 or even 8.5X42. Reviews and reviewers often say they are ideal for beginner birders, casual birders or safari goers, or as a spare pair to take on a hike. Some manufacturers refer to them as a companion, which means to take with you wherever you go. But what else should binoculars be?
For me, a typical day in the field is from well before dawn, until late in the day. One wears binoculars permanently (since you never know when you might miss something!). My standard binoculars of use (Swarovski 10X42) are a substantial piece of equipment, coming in at 780g. This makes for a more tiring wear – even with good binocular harnesses, which I believe are essential for serious birders. In contrast the Fujinon 10X32 are just 480g and the 8X32 470g.
After field testing them in the day, I found I did not bother to take them off when making coffee or even eating lunch – the binoculars disappeared into my permanent birding attire!  When out in the field I usually have a scope, sound equipment and sometimes a camera, so the idea of something compact and handy just feels right for me personally.
My initial impression on looking through both pairs was that the optics are excellent. Sharp, bright, and easy on the eye. Comparing them with some other models in the same class (Nikon and Steiner were compared), they showed excellent optical performance.
Compared to the Swarovski EL 10X42, the image is not quite as sharp at the edges, with slight distortion if you look for it. But then you are comparing binoculars that cost 8X more.
Personally, I doubt this has any bearing on the actual birding experience. When birding, fast focus adjustment requires a smooth, easy turn of the central focus wheel. Both models feel identical and the focus is smooth and efficient. Diopter adjustment should be simple and precise, without the possibility that it changes due to movements and bumps while you are birding. The diopter adjustment ring is set a little bit in, and in line with the focus wheel. It has a pleasing stiff feel and diopter adjustment is aided by a pattern on the wheel which should make it easy to remember where to position the wheel.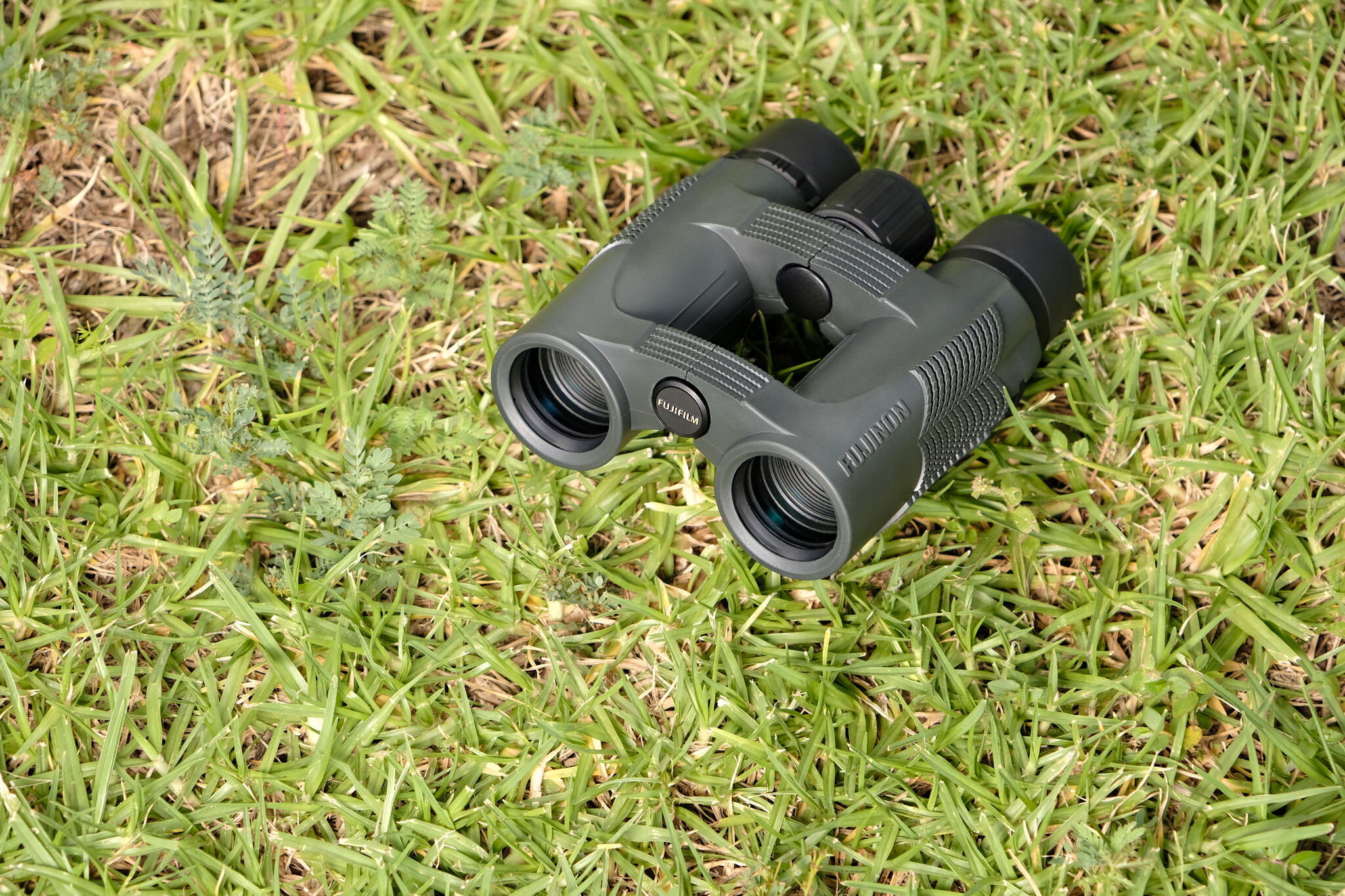 The eye-caps turn in and out easily, with four different settings to adjust for your own preference as regards eye-relief (how far do you want your eye from the lens). Eye-relief is on the short side however at 14.5mm – which means that for some eyeglass wearers these binoculars might not be ideal since their eyes will be too far from the lens.
The field of view of the 8X32 is a very good 7.5o while the 10X32 have a good 6.5o field (good for a X10). Close focusing is also quite adequate for birding, coming in at 2.5m (although I could focus comfortably with the 10X32 at 2.3m). I say adequate for birding since it is hardly ever that one wants to look at a bird at less than 2.5m, but if you happen to be really keen on butterflies or dragonflies then other brands have binoculars that focus at a shorter range.
To really test the Fujinon offering in terms of low-light performance, I conducted a field comparison with a pair of Swarovski EL 8.5X42. The EL is class leading in terms of brightness and in the EL 8.5X 42 formulation boasts exceptional low-light performance and field of view. The test involved identifying birds on a golf course after sunset, and as the light faded, one could see if there really was as much difference as one might expect.
Overall, the Fujinon W series showed rather good performance in these conditions. While the Swarovski presented an overall slightly brighter image at every stage of the test, the visible detail on the birds we were looking at were remarkably good. In fact, it is difficult to see if using the more affordable Fujinon W series would result in any serious disadvantage from a birding identification point of view in low light conditions.
It is worth noting that the cheaper KF8X42H performed very well in this test, being rather close to the Swarovski in terms of brightness in very low light conditions. This is not surprising given the bigger objective lens. All things being equal, an 8X42 will always outperform an 8.5X42 in low light conditions.
I also tested the Fujinon TS 12X28 (baby stabilizer) and the TSX 14X40 (big boy stabilizer) in the same low light test and was somewhat surprised at their optical performance in these low-light conditions. Technically the twilight factor in a pair of 12X28 or 14X40 is much poorer than the binoculars, but there is something that the stabilization does that improves the optical data to make for a clearer image, even with the poorer light-gathering fundamentals of these binoculars. In a nutshell, stabilization provides better quality optical data than without!
Overall, the Fujinon KF 8X32W and KF 10X32W are excellent binoculars and will compete with many other brands in the mid-range of binoculars, or among those who would rather book a birding trip to Brazil with the difference between these and the top-priced brands. Testing them has certainly changed my views of what is ideal and having used them in the field I am quite comfortable with carrying them as my standard pair.
Does one go 10X32 or 8X32 – that is the question? This is really a personal choice and for many birders I believe the reduced "shake effect" of using an 8X balances out the larger image that a 10X gives. But if you need a 10X in a lighter package, you need go no further than the 10X32W. For me personally the slightly bigger field of view and marginally better performance in low light conditions tip the scales towards the KF 8X32W as the pair I would most comfortably include in my standard birding attire.
  Summary – Fujinon KF 'W' series  
Design is handsome and easy in the hands.
Binoculars have a rugged feel with textured rubberized casing over the aluminium alloy body.
Build quality looks good.
Weight allows binoculars to disappear into your permanent birding attire.
Focus is smooth and efficient.
Visible detail on the birds in low light conditions were remarkably good.
I am quite comfortable with carrying them as my standard pair.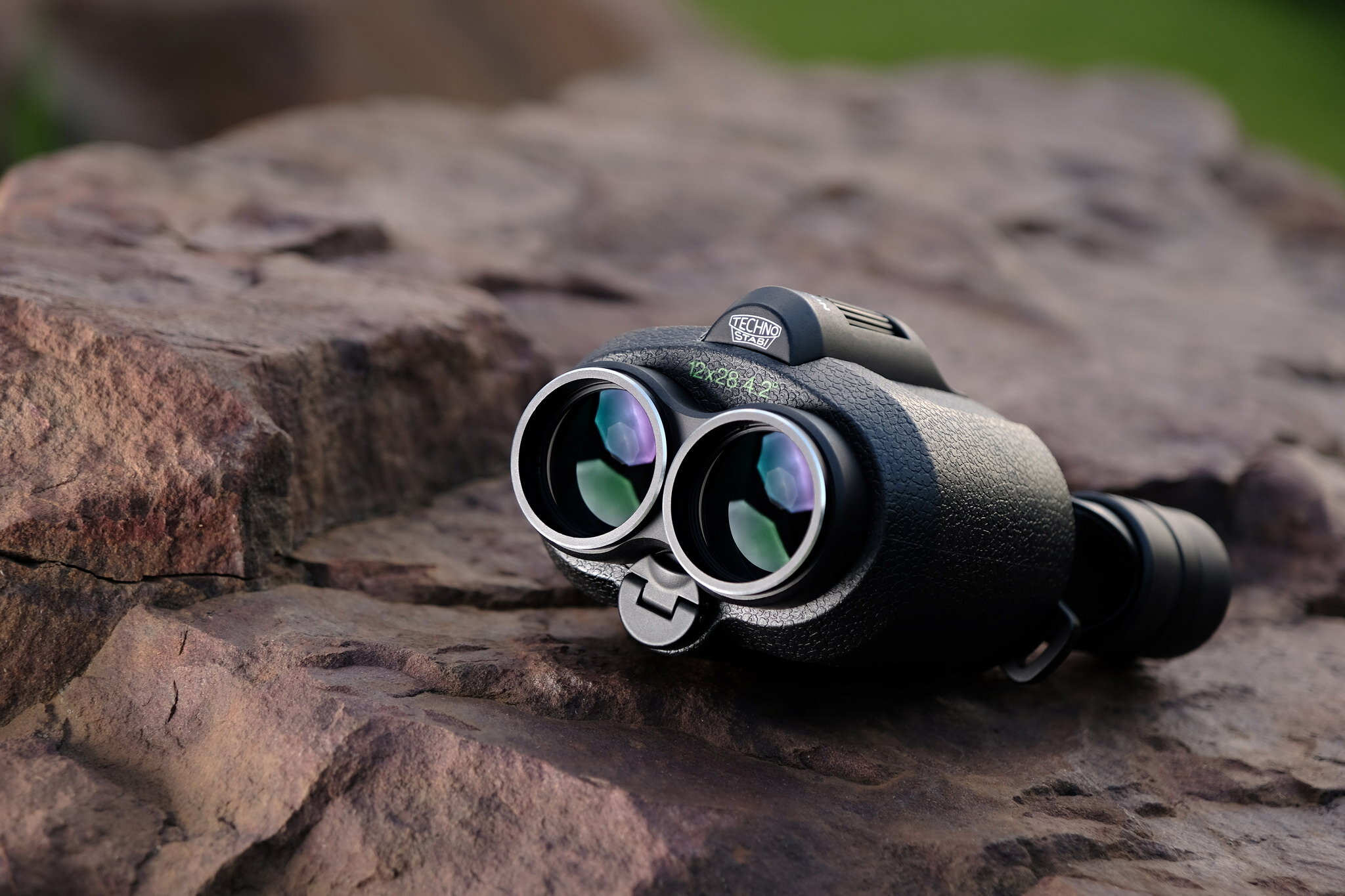 3. Fujinon Image Stabilized Binoculars TS-X 1440 Techno-Stabi
Ordered on demand.
I have encountered image stabilizer binoculars before, and to be honest, I never thought they were very practical for birding due to clumsiness and weight. Then there is the issue of batteries and one wonders how durable a complex electronic mechanism is in tough field conditions. However, having used these two models in the field some interesting possibilities and birding applications emerged!
Looking at a couple of reviews around the web, some which compared image stabilizer binoculars rate the TS-X 1440 very highly against other brands. I have not had a chance to compare them to others, but as I understand it the key features Fujinon claims are the following:
Class-Leading image stabilization at ±6°, which is apparently more than other brands provide

 Waterproof and rugged, which means they are suitable for marine use. They apparently float, but I did not test this!
The TS-X 1440 image stabilizer binoculars come in a solid body and weigh in at 1.3kg. The field of view is small at 4o and the diopter adjustment is firm and sturdy. The adjustment for distance between the eyes is pretty firm, which is a good thing on a heavy piece of equipment since you don't want to be fiddling with this every time you pick them up.
The eye-caps were pretty smooth and sturdy enough, although the short eye-relief of only 13mm means that you probably don't want to use these binoculars with glasses. Unlike some other images stabilized binoculars, the optics are excellent without image stabilization and they could be used without it being turned on.
However, the powerful 14X magnification amplifies any shake or vibration, thus degrading the image perception. That's where the image stabilization comes in. Press the button and a mechanical noise announces that the mechanism has kicked in. Suddenly the image seems extremely sharp and clear!
When you move the binoculars quickly there is a 'swimming sensation' which takes a little getting used to, but once you are locked on to something the image is excellent. Focus is performed via a dial on the right-hand side, but once I got used to it, it was easy to use and effective.
Something hardly ever mentioned in binocular reviews is the role that shake and vibration cause in optical degradation. I remember an impromptu side by side comparison which occurred on a birding twitch, when a midrange Nikon 60 scope stood next to a premium Leica 80mm scope. Several birders stood in line to see a rare slaty egret that had arrived at a local wetland. Most wanted to use the more impressive looking Leica but as I supervised the views, several birders got to look at the same bird through both scopes.
There were a couple of comments on how good the view was through the Nikon and the owner of the Leica was prompted to also take a look. He was genuinely crestfallen on hearing the price difference and a discussion ensued as to why the view through the Nikon was superior. The answer was simple – the tripods used. I have always favoured a heavy duty Manfrotto tripod, and his was a lighter travel tripod. With the wind blowing the vibration completely degraded the one image but not the other!
So, as discussed in the low-light comparison above. Stability of the image means that the eye can better process the available data, more so than if the image is moving – even very slightly.
In comparison with high quality 10X42 binoculars, the process of scanning a large wetland for waders was very instructive. In the heat of the day and at an extreme distance – waders on the far shore could not be identified with the premium 10X42. Using a 20X spotting scope on a tripod was much more effective. But it has its disadvantages, for example the use of only one eye at a time, which results in eye strain rather quickly.
With the Fujinon TS-X 1440 the scanning is more comfortable and highly effective since you have full binocular vision, and the scanning motion is easier and more flexible than with a scope. Overall, if I had to scan a large area for birds, either on the ground or in the air, with a limit on time (which is always the case when birding), I would choose the Fujinon TS-X 1440.
Flying birds are always a challenge and I was very positively surprised at how easily I could pick out and identify distant swifts and swallows with the TS-X 1440 compared to normal binoculars. I'm not quite sure of the technicalities but it seemed to have stabilized the birds in flight so that one could see them more clearly.
I did not have the opportunity of testing these binoculars on a boat trip (a birding cruise on a river or lake) but having worked with scopes and binoculars on many such boat trips I am convinced that the TS-X 1440 would be a fantastic accessory for boat trips and would recommend it for tour operators who regularly run such excursions. I imagine they would be perfect for pelagic cruises as well, where the movement of the boat is relatively small but enough to degrade ordinary binocular use.
I was not able to use the binoculars long enough to test battery life, but it uses four standard AA batteries which are readily available. concern
 Summary – Fujinon TS-X 1440 Techno-Stabi
The optics are excellent even without image stabilization.

Extremely sharp and clear when stabilization turned on.

Scanning is more comfortable and highly effective.

Birds in flight stabilized so that one could see them more clearly.

Fantastic accessory for boat trips.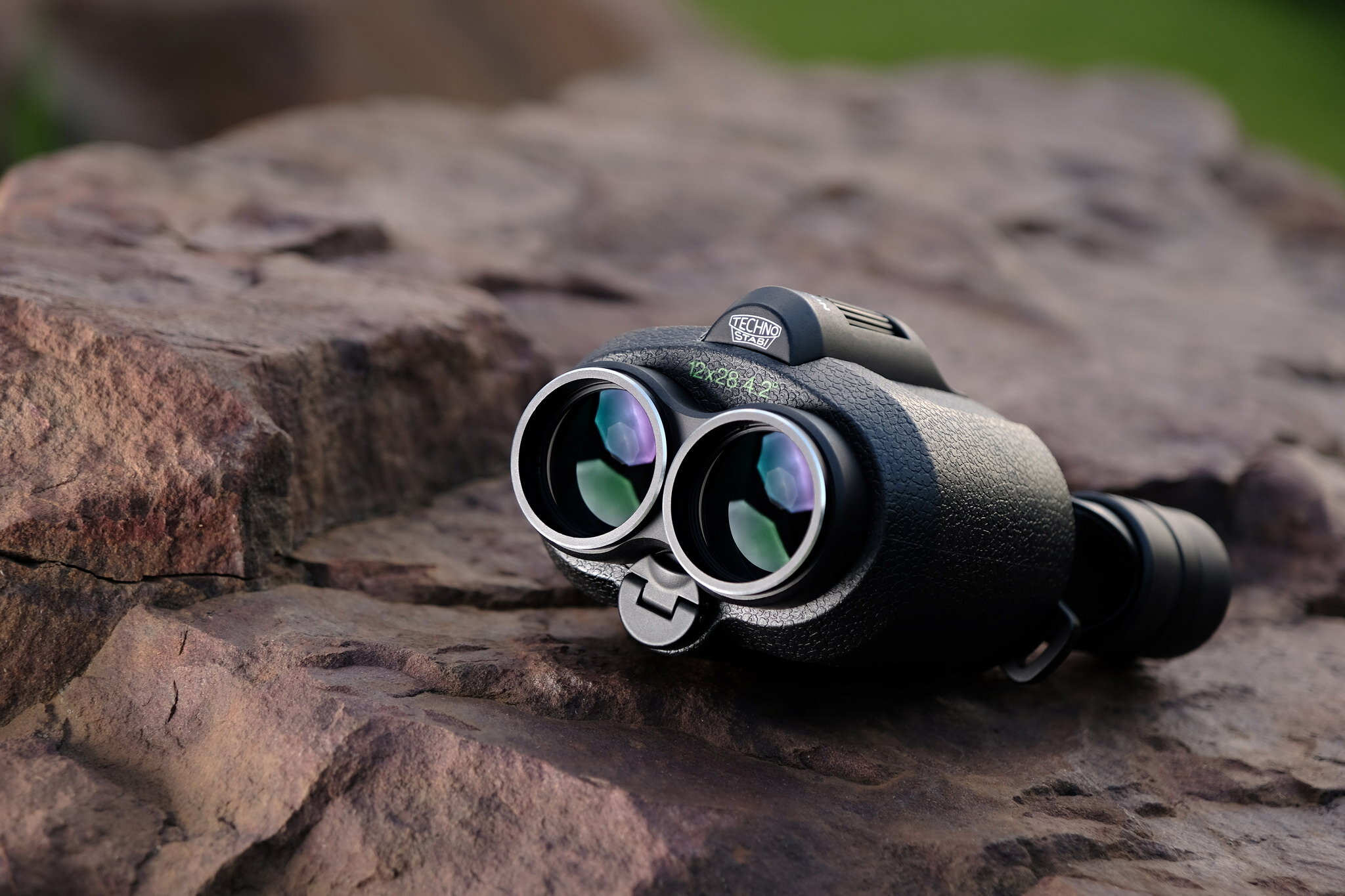 A someone odd and narrow looking porro prism design in a 12 X 28 configuration, this new model is among the smallest image stabilized binoculars available. Fujinon states that it is compact and lightweight with a stabilization correction of ±3 degrees – somewhat less than its big brother the TS-X 1440.
The small objective (28mm) makes the field of view small – so these are not binoculars for scanning, forest work or for trying to pick up rare swifts in the sky! As with the larger TS-X 1440 I was somewhat sceptical at first of the value of these for birding. One easily engages the stabilization with the turn of a lever and the result is a stabilized 12X image which is incredibly sharp and clear – certainly better than a premium 10X binocular – due to the fact that the image is so stable, the eyes can better use and process the optical data.
One negative is that the eye-caps are a little flimsy and a little unstable, other than that the binoculars are a solid package with a durable feel -and hard plastic coating that is comfortable and non-slip. These binoculars also use a less common CR2 battery which may not be readily available in remote areas. I was not able to test the battery life.
The biggest plus for these binoculars is the sheer optical quality in a small package. The image is just so sharp and stable that you can see whatever you are looking at better than with the absolute best non-stabilized binoculars. The small field of view will be a challenge in locating the target, but as an experienced user I did not find it a big issue.
I would not carry them as my standard field binoculars since the process of image stabilization is too awkward for fast birding, but a number of different applications for birding came to mind as I tried them in different settings.
Because the TS12×28 are so light and handy they can easily be used with one hand. The narrow shape further facilitates use in one hand. Normally when you use binoculars with one hand, the lack of stability makes for a poorer image. But here you have a set of binoculars weighing in at only 500g that sits comfortably in one hand, and provides superior optical performance due to the image stabilization!
So why would you want to use binoculars with one hand?  I have seen many birders who are primarily photographic birders almost dispense with binocular use, rather relying on looking through the camera. Many also use a smaller pair of binoculars in order to see the birds before photographing them. But when one is saddled with heavy equipment, both hands are often not available to look with binoculars.
Personally, I usually carry a scope on solid sturdy tripods on the majority of my birding outings, and one often wants to look quickly at a moving bird or something that has caught your eye. In this case, a one-handed device actually makes a lot of sense.
On one birding excursion, I was accompanied by a birder who had recently had a shoulder operation and was essentially one-handed. He found the small Techno Stabi ideal for observing some distant ibises that were engaged in nest building.
As with the much bigger TS-X 1440 the stable 12X magnification is great for long distance work where you need that extra optical clarity, including large wetlands, look-outs or when looking at distant birds in the sky. The smaller field of view makes them a less than ideal scanning binocular (compared to the TS-X 1440). That said, they are much lighter and more handy – the sort of pair I would love to keep in a backpack when hiking without a scope or doing a bird count on a large wetland. They would work well for disabled birders with the use of one hand or at a static observation post like a lodge deck with a long view over wetlands!
Summary – Fujinon TS 12×28 Techno-Stabi
Among the smallest image stabilized binoculars available.

Stabilized 12X image which is incredibly sharp and clear, better than a premium 10X binocular.

Can easily be used with one hand.

Binoculars are a solid package with a durable feel.

Stable 12X magnification is great for long distance work where extra optical clarity is needed.
A final note on bird ID, visual perception and binocular quality
If you were to believe a lot of the marketing hype around binoculars you would think that spending a few more grand on binoculars will enable you to see more detail on the birds you are observing to help identify more of the birds you see in the field. Having used a big variety of binoculars on many birding trips in a variety of different conditions, I am often in a position to see features on birds I am looking at which others can't discern – no matter what binoculars they are using. The image we see through binoculars is a lot of data, and the eye and brain work together to make sense of this. Visual perception is not just about the image – it is what you make of it! Just a small amount of practice in looking at birds every day will make a far bigger difference to your birding than spending eight times more on a pair of binoculars!
Etienne Marais
October 2020